This post is devoted to writing inspiration.
Books that inspired me:
Johnny Tremain
(Esther Forbes).
Inspiring because:
Character(Rab), lively intricate setting, emotional/inspiring ending
The Bronze Bow(
Elizabeth George Speare)
Inspiring because: characters(Malthace and Leah), plot in general.
Triple Zero
(Karen Traviss)
Inpspiring because: characters(Fi, Walon Vau), moral dilemmas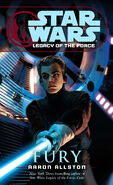 Fury
(Aaron Allston)
Inspiring because-characters-(Jacen Solo, Kyp Durron), story arc, detailed portrait of Jacen Solo's descent, humor
The Mysterious Benedict Society(
Trenton Stewart)
Inspiring because-humor. Had sudden urge to put businesspeople w/briefcases and business cards in my sci fi book.
I'd be really interested in hearing which books inspired your writing! It's often the books you liked the most-they often unconsciously influence your writing.
But if you are looking for inspiration in writing, genre is very important in starting you off on your search. Why?
Well, each genre has different, defining characteristics. If you have a vague idea about a fantasy story with a medieval English princess that goes off on her magic unicorn to look for...something magical?(whatever), searching for inspiration in
Pretty Little Liars
and
Twilight
might not be the best idea. Instead, you might strike inspiration gold in
Lord of the Rings, Redwall,
or even
Unearthing Wind
(hehe)
.
Even if you don't want your story to be anything like those stories, they can offer themes, setting ideas, and character ideas to make your story feel more fantasylike. Of course, books can influence books in other genres, in terms of characterization, etc. Genres can be combined, and character tidbits can be pulled from almost anywhere(people, in general, stay the same cross-genre).
Pick a genre, any genre-
Pick a genre you enjoy reading. If it's your first book, pick one that's a little easier to write. Realistic fiction is easier to write(in my opinion) than science or historical fiction, because you're familiar with it and you don't have to do a lot of research. Fantasy is another broad, popular genre to write.
Read other books in that genre:
In my inspiration list I have two historical fiction books and three sci/fi books. That tells a lot about what my writing might be like.
Look for other books in that particular setting-
Books, even if they're in other genres, could offer help with setting. A good resource for the above medieval princess book might be
Catherine, called Birdy
or
A Door in the Wall
. Even though they're both historical fictions, they could help with that particular book because they're set in the same place/time.
Look for particular characters:
Like I said before, character inspiration can be found in any genre. If your princess is sassy and spunky, you could find inspiration in Marcia Overstrand or Lucy Gringe from
Septimus Heap.
If she is quiet, regal, and noble, you could find inspiration in Aslan or Susan from
Narnia
. You get the picture. Maran Parast(from my current novel) is partly inspired by Ben Skywalker from
Star Wars.
I got an idea for another book yesterday. I'm not sure how. XD
T